Shadows by Jennifer L. Armentrout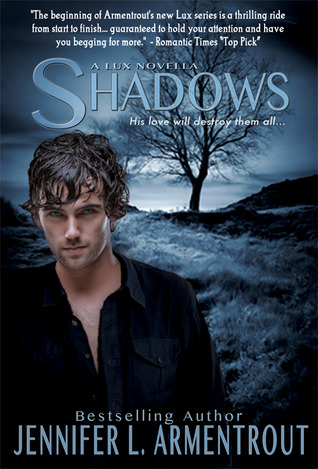 Date Published: February 21, 2012
Format: E-book, 179 pages
Publisher: Entangled Publishing
Source: Bought
Series: The Lux Series, #0.5
The last thing Dawson Black expected was Bethany Williams. As a Luxen, an alien life form on Earth, human girls are…well, fun. But since the Luxen have to keep their true identities a secret, falling for one would be insane.

Dangerous. Tempting. Undeniable.
Bethany can't deny the immediate connection between her and Dawson. And even though boys aren't a complication she wants, she can't stay away from him. Still, whenever they lock eyes, she's drawn in.


Captivated. Lured. Loved.
Dawson is keeping a secret that will change her existence...and put her life in jeopardy. But even he can't stop risking everything for one human girl. Or from a fate that is as unavoidable as love itself.
My Review:
For those who don't know this, this book is a prequel to Obsidian. It's a short novella that sets up the whole stage for the rest of the series. And it's done pretty well, I might add. It basically tells us what happened to Dawson, the younger twin of Daemon from Obsidian.
For those who read Obsidian, we learn that Dawson was killed by Arum and this book narrates his last months before he disappeared. In Obsidian, we also learn that he had met and fallen in love with a human. But not a lot of details are told. And this is what Shadows is basically about.
Dawson is the complete opposite of his older twin, Daemon. He's so sweet and what a gentleman he is while Daemon is so cocky and arrogant and an asshole. I love him so much that it's weird really because I also love Daemon. It's kind of freaky to love both brothers but hey, it's a Jennifer L. Armentrout book. What do you expect. She'll do that to you. She's just that good and I love her books so SO MUCH!
He meets this human girl named Bethany 'Beth' Willians and he is just captivated by her and her beauty. And Beth is also lured by his appearance because Dawson's look is so beautiful that it doesn't feel real. And that's because he is an alien. He's a Luxen. But she doesn't know that. But her world is brought down when she finds out the truth. Not at first because she trusts him but there is a bunch of shit that happens to her because of what she learns. And she's not supposed to know.
I really like Bethany's character. Even though she's not Katy, there's just something that I like about her. She's just great and I ship her and Dawson so much. They just make such a cute and sweet pairing. And while Katy and Daemon are HOT together, Beth and Dawson are ADORABLE!! I love them together. And it's so sad to see what happened to them. I wish they had a full story. But alas that will only happen in my dreams. I highly recommend this book it's such a cute read and you'll fall in love.