Beautiful
Oblivion
by Jamie McGuire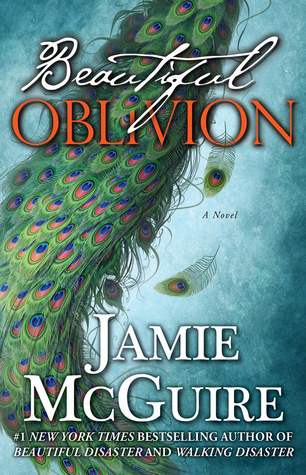 Date Published: July 1, 2014
Format: e-book, 416 pages
Publisher: Atria Books
Source: Bought
Series: Maddox Brothers, #1
Purchase Links: Amazon / Barnes and Noble / Book Depository

Synopsis from Goodreads:
The Beautiful Disaster and Walking Disaster phenomenon continues in the first heart-pounding new adult romance in The Maddox Brothers series.

Fiercely independent Camille "Cami" Camlin gladly moved on from her childhood before it was over. She has held down a job since before she could drive, and moved into her own apartment after her freshman year of college. Now tending bar at The Red Door, Cami doesn't have time for much else besides work and classes, until a trip to see her boyfriend is cancelled, leaving her with a first weekend off in almost a year.

Trenton Maddox was the king of Eastern State University, dating co-eds before he even graduated high school. His friends wanted to be him, and women wanted to tame him, but after a tragic accident turned his world upside down, Trenton leaves campus to come to grips with the crushing guilt.

Eighteen months later, Trenton is living at home with his widower father, and works full-time at a local tattoo parlor to help with the bills. Just when he thinks his life is returning to normal, he notices Cami sitting alone at a table at The Red.

As the baby sister of four rowdy brothers, Cami believes she'll have no problem keeping her new friendship with Trenton Maddox strictly platonic. But when a Maddox boy falls in love, he loves forever—even if she is the only reason their already broken family could fall apart.

In the first installment of the Maddox Brothers books, readers can experience the rush of reading Beautiful Disaster for the first time, all over again.
My Review:
When I finished reading Beautiful Disaster, I was beyond excited when I heard that Jamie McGuire was going to write a series for the rest of Travis' brothers. I adored reading about them in Travis' story. But I barely finished Beautiful Oblivion. I had huge expectations and sadly, this book didn't quite meet them. It wasn't that bad, I do love Trenton Maddox, but there wasn't a whole lot of swooning like there was for Travis.
The plot of the novel wasn't very complex for me. I felt like there was no meeting conflict at the climax. Sure the characters had to deal with their own personal issues but I felt like it was a side story. Where is the main conflict because I didn't see one.
I didn't really care much about the characters except for Trenton. I couldn't relate to Cami, the main character. I didn't feel the chemistry between Trenton and Cami. There wasn't any swooning for me which is something I love to do when I read books; especially ones with hot, baddass guys.
The only big issue I could see was that Cami was having long distance problems with her boyfriend, TJ, who is working at LA and they hardly talk to each other. But Cami loves him. She also has to deal with her family drama; her father is a major asshole. I despised him and I loved when Trenton stepped up and defended her. Cami could sure irk me at times with dealing with TJ. She just wouldn't drop him when Trenton was there for her. She knew her relationship with TJ wouldn't work yet she didn't care. She ended up hurting Trenton's heart and for that, I hated her.
Trenton is dealing with his own problems and he meets Cami, where she works as a bartender at The Red Door. That's the last thing she wants. But they end up getting to know each other. TJ just keeps getting in the way. And it isn't until Cami drops TJ does she give Trenton a real try. And there's this secret that Cami's been keeping from Trenton. I really wanted to know what it was and it never gets revealed. You see that's the thing with Beautiful Oblivion. There are so many things left unexplained and unresolved like why Cami's father is the way he is. What's the meaning behind the tattoo that Cami got? Why all of all sudden did Trenton and TJ get along at the end? What was Cami's secret? All these questions, all the madness.
The ending felt very off like there wasn't one at all. It was so rushed. Like BOOM, an accident, and we're at the hospital but everything turn out all right after all. I did not like it. We don't get to see what's going to happen to Cami and Trenton in their relationship. Or Raegan's and Kody's relationship. Lots of things left unresolved for me. But it wasn't all bad for me. I did love seeing how the story took place exactly in the same period when Beautiful Disaster was taking place. I liked the scenes when we got to see Travis, Shepley, and Abby. But this book had so much potential. I'm still going to wait for the next book because I do love the Maddox brothers and I still want to give them a try.
I hope I didn't scare anyone with my little rants. But just because I didn't love this book as much doesn't mean you shouldn't give it a try. Everyone else seems to love it. I can understand that, I mean Trenton is a Maddox brother. But he can never replace Travis for me.