Landline by Rainbow Rowell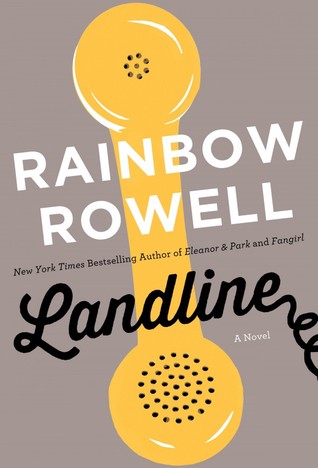 Date Published: July 8, 2014
Format: Paperback, 308 pages
Publisher: St. Martin's Press
Purchase Links: Amazon | B&N
Georgie McCool knows her marriage is in trouble. That it's been in trouble for a long time. She still loves her husband, Neal, and Neal still loves her, deeply — but that almost seems besides the point now.

Maybe that was always besides the point.

Two days before they're supposed to visit Neal's family in Omaha for Christmas, Georgie tells Neal that she can't go. She's a TV writer, and something's come up on her show; she has to stay in Los Angeles. She knows that Neal will be upset with her — Neal is always a little upset with Georgie — but she doesn't expect to him to pack up the kids and go home without her.

When her husband and the kids leave for the airport, Georgie wonders if she's finally done it. If she's ruined everything.

That night, Georgie discovers a way to communicate with Neal in the past. It's not time travel, not exactly, but she feels like she's been given an opportunity to fix her marriage before it starts . . .

Is that what she's supposed to do?

Or would Georgie and Neal be better off if their marriage never happened?
*Thank you to St. Martin's Press for providing me with a review copy.*
My Review:
Before I read this book, I had heard of so many good things about this book and the author. I've heard of her previous books like
Eleanor & Park
and
Fangirl.
And I haven't read them but I've been meaning to and I was naturally drawn to
Landline.
It takes place around Christmas time when the main character Georgie, a TV writer, gets an opportunity of a life time. But it means that she would have to cancel her plans of traveling to Omaha, to go see her husband's mother for Christmas. While Neal said he was okay with it, it was well-known to the reader that it wasn't okay. Georgie stays for her job and Neal decides to take the kids to Omaha anyway. And her cell phone is malfunctioning and so she uses her parent's old landline to communicate with Neal and realizes that she's speaking to Neal from the past before they were even engaged. Georgie begins to ponder on her marriage and how it significantly went from being deeply in love to such a tense marriage. Landline centers around the past and present narration through the magical phone.
It was kind of weird for me to read about an adult as the main character since I'm much younger. And I couldn't relate to Georgie but I could understand her situation. But I could also understand Neal. And at the beginning, I felt like she was being selfish with her family. I mean it's not just her husband but her kids. How could she abandon her kids? But I learned how important her job is to her. And as Georgie begins contemplating her marriage, I actually started thinking of how far I've come since middle school. I used to be more reckless and wild, I've now become a more responsible and mature person for my age.
The characters were so well-written. Georgie and Neal's marriage is so realistic. Because let's face it, marriages don't last forever because everyone falls out of love. It can be mistaken as infatuation and even that doesn't last. Something I really loved about this book was the interactions between Georgie and Noomi, her youngest daughter. Noomi was just adorable and how she would just keep meowing and the fact that Georgie would do it too for her child. It really made me smile.
Overall,
Landline
has left me eagerly wanting to read Rowell's other novels. It's a perfect summer read. I enjoyed this book even though this book would get quite boring at times. It's still worth it because I really wanted to know where Georgie and Neal's marriage was headed. And I had imagined a totally different ending from what actually happened. Nicely, well written realistic romance with a magic phone thrown in. Highly recommend Lanline to those who've read Rowell's previous books.