Origin by Jennifer L. Armentrout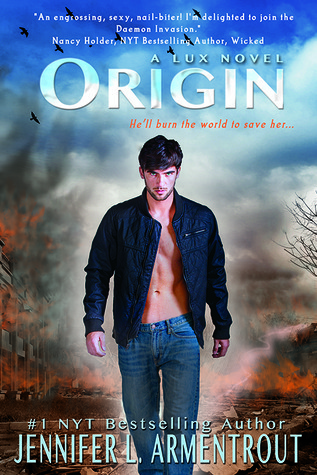 Date Published: August 27, 2013
Format: Paperback, 364
Publisher: Entangled Teen
Source: Bought
Series: The Lux Series, #4
Purchase Links: Amazon / Barnes and Noble/ Book Depository

Synopsis from Goodreads:
Daemon will do anything to get Katy back.

After the successful but disastrous raid on Mount Weather, he's facing the impossible. Katy is gone. Taken. Everything becomes about finding her. Taking out anyone who stands in his way? Done. Burning down the whole world to save her? Gladly. Exposing his alien race to the world? With pleasure.
All Katy can do is survive.

Surrounded by enemies, the only way she can come out of this is to adapt. After all, there are sides of Daedalus that don't seem entirely crazy, but the group's goals are frightening and the truths they speak even more disturbing. Who are the real bad guys? Daedalus? Mankind? Or the Luxen?

Together, they can face anything.

But the most dangerous foe has been there all along, and when the truths are exposed and the lies come crumbling down, which side will Daemon and Katy be standing on?
And will they even be together?
My Review:
After that big twisty cliffhanger that
Opal
left us with, I wanted to get my hands on this so badly. If you thought
Opal
was crazy, then just wait 'til you read this one. Jennifer delivers another astounding novel to a spectacular series. That woman seriously has some serious mad skills when it comes to writing books.
Origin
starts off with Daemon's point of view since it's written from both Katy and Daemon's point of views. Another brilliant idea from Jennifer. Daemon is locked up in a Luxen community for trying to run off to save Katy. And he escapes. He's off to save Katy not knowing whether he'll be able to break her out but just knowing that he can at least make sure that she's not alone.
This novel introduces new characters into the story. Mighty fine ones like Archer, a sexy military man, who is quite extraordinarily from the Luxen or hybrids. *hint: the title of the book.*
There was so much chaos in this book. It was quite extreme if you might ask. There was a HUGE milestone that will probably set up the story for the last book in the series. I never expected the characters to come out of their shell. And there's no going back. Things are really going to change. Ladies and gentlemen, Earth will never be the same for the humans and I mean that literally.
I really felt bad for Katy. She helps Dawson get Beth back and she pays the price. Katy completely changes from what she goes through in
Origin
. It's completely mental what the DOD does to her. And we get a sneak peak at what the DOD is all about as well as all that Beth and Dawson had to endure for two years. I could see her grow and mature after what she has to put up with, without Daemon by her side. And I just keep liking her even more as the series progresses. She's an amazing female heroine.
Daemon really amazed me in this book. All that he is willing to do so that he can protect Katy and keep her out of harms way. He really is fierce and loyal to her and probably more so than his kind. It's really unbelievable. The tag line of the book really is true, he will truly burn the world for Katy. I just keep falling in love with him even more.
The romance also meets a new milestone, BIG time. Though I can't decide if it was too early. But who cares, it's still brilliant. Katy and Daemon love each other and deserve to be with each other. There was some major swooning when they take a next step in their relationship and it will be the farthest thing from your mind. It keeps you on your toes the whole time.
Completely awesome and delightful, I flew so quickly by it and wish it could have been longer, I was not prepared for that ending once again. Though it's not so much of a twist like it was with Opal. But still, it's going to be completely off the charts. And I was completely engrossed the entire time. Anyone who has read the previous Lux books will not be disappointed. Everybody needs to read
Origin.
It will blow your minds away and make you swoon.
4 Stars: A great read :D