Bitter Sweet Love by Jennifer L. Armentrout
Publication Date:
December 1, 2013
Format:
E-book, 105 pages
Publisher:
Harlequin Teen
Series:
The Dark Elements, #0.5
Synopsis from Goodreads:
In a sizzling prequel novella to her new series THE DARK ELEMENTS, #1 New York Times bestselling author Jennifer L. Armentrout draws readers into the extraordinary, irresistible world of Wardens and demons.
Dez wasn't just Jasmine's crush. A gargoyle Warden like Jas, he helped her come to terms with her destiny—fending off demons and maintaining balance between good and evil. He was her everything...right until the moment he disappeared without a trace. It didn't help that Jas's father had just announced that she and Dez would one day be mated. Hard not to take that personally.



And now he's back, three years older, ten times hotter, ready to pick up exactly where they left off. But Jas isn't taking that risk again. Dez has seven days to meet all her conditions and earn back her trust. Seven days filled with terrifying danger and sweet temptation. Seven days to win her heart—or shatter it all over again...
My Review:
This was such a good paced and quick read. I loved it better than I thought I would especially since it involved gargoyles (Wardens). But they are S E X Y Wardens like Dez and Zayne. It does such a good job in setting up the world you come to know in the first book in the series. And I really love how you get to meet the main characters in the series at the end of this novella. I completely fell in love with them right off the bat and it isn't their story yet.
We're introduced to our main character named Jasmine who is a Warden from the New York clan. And there's not a lot female Wardens which is why they're really protected and watched over constantly. They don't really get to do much. This really irritates Jasmine because she wants to let loose and do the things she's not allowed to do like hunt a demon down, and travel somewhere else without having males protecting her. But females are expected to breed to keep the warden species from going extinct and to homeschool the young. You could say that she's unlike other females and breaks the rules every chance she gets.
Right off the beat, we meet Dez, Jasmine's childhood friend and her crush. He was from the West Coast clan that was wiped out by demons and he was the sole survivor. He was brought to the New York clan when he was just ten years old and wouldn't let anyone in except for Jasmine. They bonded and became best friends. When Dez turned eighteen, Jasmine's father, announced that he supported them being mates. Then Dez disappeared the very next day and no one knew where he went and why. That broke Jasmine's heart. But then three years later her returns and claims Jasmine.
In the Warden tradition, a male can claim a female to be his mate. He has seven days to court her. In the end, the female can either say yes or no. They don't marry like humans do, they mate. Mating is seen as forever and stronger than marriage.
During these, seven days, Jas and Dez embark on a journey together. The more time they spend together, the harder it is for Jasmine to resist him. They meet danger along the way and secrets are revealed. We get to see sparks fly with this couple. Passion is re-ignited. I definitely loved their romance scenes.
Then we're introduced to our lovable characters that are in the next book. Layla is half-demon and half-warden. She is seen as dangerous and a rarity among the wardens since demons and wardens are enemies. We also get to meet another warden, Zayne, who is like her big brother and he's such a hunk. Then we see a demon, Roth, who appears to be spying on Layla. All this sets up the events that are to come in the next book, White Hot Kiss.
Bitter Sweet Love has everything that readers look for: fresh and unique. It's not everyday we read about gargoyles. Especially sexy ones. It has the right elements: action, adventure, and romance. It's sure to pull readers in from every direction. The only complain I have is that it's too short for my liking but it's still perfect in every way.
5 Stars: Out of This World!!
Giveaway
Win a signed copy of WHITE HOT KISS
Companion Bookmark
Bambi-looking tattoo
*This giveaway is open to US only. Sorry, I can't afford to ship internationally.
*The winner has 48 hours to respond or else I have to pick someone else.
*I am not responsible for lost, stolen, or damaged items. Sorry, but I can't re-send things.
Please check my policies page for more information on my giveaways.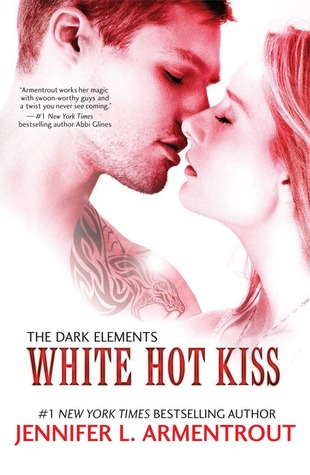 Date Published: February 25, 2014
Series: The Dark Elements, #1
Purchase Links: Amazon / Barnes and Noble / Book Depository
One kiss could be the last

Seventeen-year-old Layla just wants to be normal. But with a kiss that kills anything with a soul, she's anything but normal. Half demon, half gargoyle, Layla has abilities no one else possesses.

Raised among the Wardens—a race of gargoyles tasked with hunting demons and keeping humanity safe—Layla tries to fit in, but that means hiding her own dark side from those she loves the most. Especially Zayne, the swoon-worthy, incredibly gorgeous and completely
off-limits Warden she's crushed on since forever.

Then she meets Roth—a tattooed, sinfully hot demon who claims to know all her secrets. Layla knows she should stay away, but she's not sure she wants to—especially when that whole no-kissing thing isn't an issue, considering Roth has no soul.

But when Layla discovers she's the reason for the violent demon uprising, trusting Roth could not only ruin her chances with Zayne…it could brand her a traitor to her family. Worse yet, it could become a one-way ticket to the end of the world.